This is a pair of photoelectric switches with a detection distance of up to 1.5m and a fast and stable response time of less than 1ms. The module consists of a transmitter and a receiver. The transmitter contains an infrared diode that can emit infrared rays with strong penetration, thereby ensuring that the sensor can achieve stable signal reception regardless of weather, which greatly improves its measurement accuracy.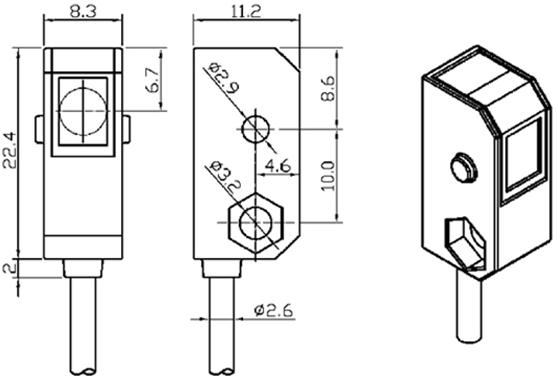 The module has a small size of 22.4*11.2*8.3mm and can be easily installed in a narrow space; It can work well within a temperature range of -20 ℃ to 65 ℃, which can be used in both indoor and outdoor environments.
This switch uses a DC voltage of 9-24V, which can be widely used in machinery automation, automobile anti-theft and other industries for detection, counting, gate passing, or other industrial automation sensing conditions, and can also be used in intelligent robot competition for speed detection and timing, etc.
SPECIFICATION
Voltage: 9-24V
Output Form: three-wire DC
Output Type: NPN
Detection distance: 150cm
Output current: 200mA
Shell Material: polymer
Operating Temperature: -20℃~65℃
Operating Frequency: 1000Hz
Response Time: <1ms
Wiring: blue-GND, brown-VCC, black-output signal
Dimension: 22.4*11.2*8.3mm/0.88* 0.44*0.33"
SHIPPING LIST
Infrared Photoelectric Switch x1
Accessories Packet x1