Introducing the brand-new micro: bit V2, a must-have for technology and STEM enthusiasts. Now available with improved features to the hugely successful predecessor board with over 4 million boards being sold worldwide. This powerful, pocket-sized computer will be loved by all that use it. Designed to teach kids coding and solve problems using technology.
What is a micro: bit?
The micro: bit is only half the size of a credit card. It is equipped with a 5x5 programmable LED matrix, two programmable buttons, accelerometer, electronic compass, thermometer, Bluetooth, new touch-sensitive logo, microphone, speaker, and other electronic modules.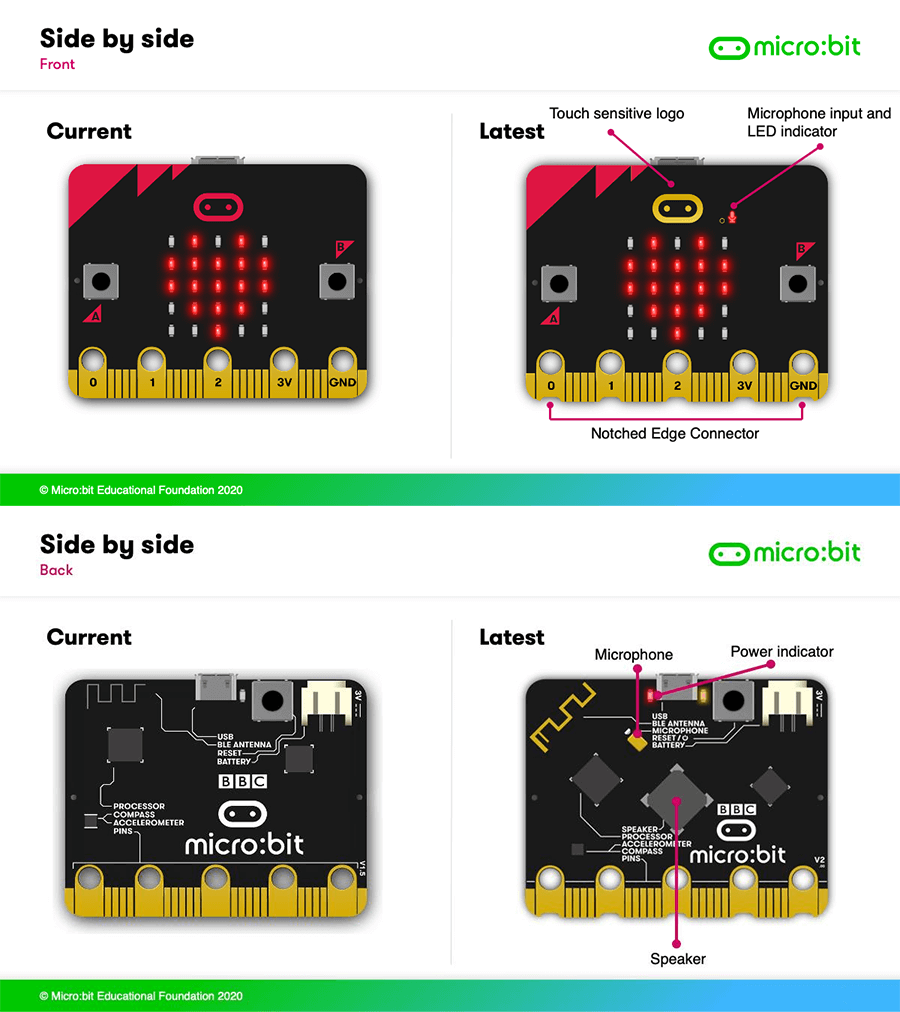 What are the differences between micro: bit V1.5 and V2.0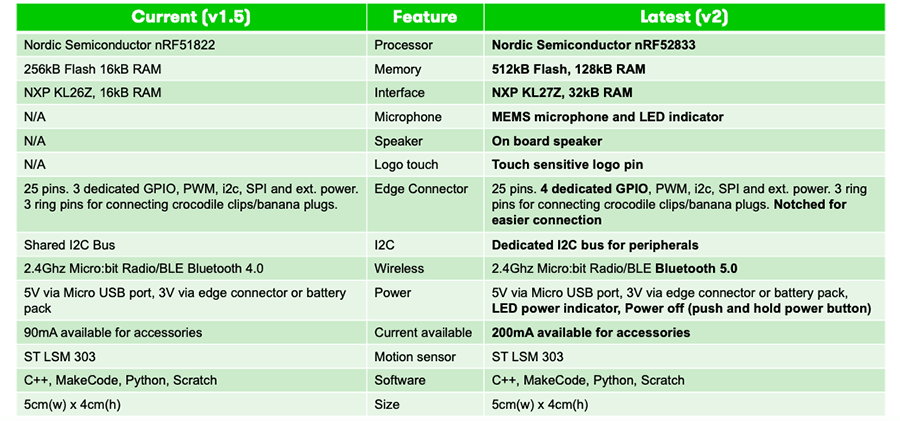 FEATURES
On board speaker
MEMS Microphone with LED indicator
Touch sensitive logo
Built-in sleep/off mode that means the board can be powered-down with batteries connected
Discrete regulator that can supply up to 200mA of current to external accessories Refinements
Notched edge connector. To make it easier to connect things like crocodile clips and conductive thread
Power LED indicator. In addition to the USB activity indicator, a power LED shows whether the micro:bit is powered on or off
Copper plated antenna. To easily identify the radio/Bluetooth component
SPECIFICATION
Processor: Nordic Semiconductor nRF52833
Memory: 512kB Flash, 128kB RAM
Interface: NXP KL27Z, 32kB RAM
Microphone: MEMS microphone and LED indicator
Speaker: on board speaker
Logo touch: touch-sensitive logo pin
Edge Connector: 25Pin,4 dedicated GPIO, PWM, I2C, SPI, and ext. power. 3 ring pins for connecting crocodile clips/banana plugs. Notched for easier connection.
I2C: Dedicated I2C bus for peripherals
Wireless: 2.4Ghz Micro: bit Radio/BLE Bluetooth 5.0
Power: 5V via Micro USB port, 3V via edge connector or battery pack. LED power indicator,Power off(push and hold power button)
Current available: 200mA available for accessories
Motion sensor: ST LSM303
Software: C++, Make Code, Python, Scratch
Size: 5cm(w) x 4cm(h)
PROJECTS
BBC micro:bit Review and makecode Programming Tutorial
Project: Micro:bit car with DFRobot gamepad
What you need?
Arcylic car chassis with 3 wheels (kit)
L9110 Dual Channel Motor Driver Module
micro:bit x 2
Double sided tape to stick the battery holder to the acrylic
Glue gun to immobilize the back wheel
Microbit Tutorials
DOCUMENTS
SHIPPING LIST
micro:bit V2 x 1
6-inch Micro USB cable x 1
Battery holder x 1
AAA battery x 2
Quick Start Guide x 1
Safety guide x 1
TUTORIAL
micro:bit board: an introduction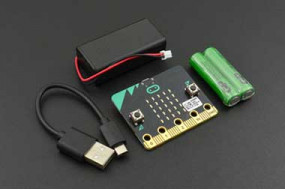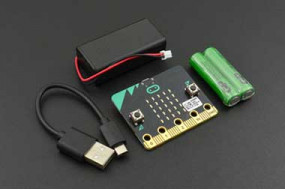 micro:bit JavaScript Blocks Editor: Hello World