ODYSSEY - X86J4105800 Most expandable Win10 Mini PC (Linux and Arduino Core) with 8GB RAM
X86J4105800 Most expandable Win10 Mini PC (Linux and Arduino Core) with 8GB RAMEdge Computing devices are playing an increasingly important role in the field of
Produkten är tyvärr slut i lager. :(
Artikelnummer: SKU717
X86J4105800 Most expandable Win10 Mini PC (Linux and Arduino Core) with 8GB RAM
Edge Computing devices are playing an increasingly important role in the field of IoT. Nowadays, a computer is not just a big rectangular black box under the desk, or a small portable device working on your knees. Computers are ubiquitous devices that span calculating, communicating, and data storage. Based on this definition, here we would like to introduce our new product – the ODYSSEY - X86J4105.
ODYSSEY is a series of SBC (Single Board Computer), allowing you to build Edge Computing applications with ease. The ODYSSEY - X86J4105, based on Intel Celeron J4105, is a Quad-Core 1.5GHz CPU that bursts up to 2.5GHz. It includes all the powerful features of Mini PC such as including an 8GB LPDDR4 RAM, 64GB eMMC Storage(optional), onboard Wi-Fi/BLE, Dual Gigabyte Ethernet Ports, Audio Input and Output, USB Ports, HDMI, SATA Connectors and PCIe, however, within a cost-effective price. With simple connections to Mouse, Keyboard and Monitor to ODYSSEY - X86J4105, you will get a Desktop Mini PC right away. With eMMC versions, you even have the Windows 10 Enterprise pre-installed!
Note
The first batch of the ODYSSEY - X864105 is ReComputer α series, hence the label is ReComputer α on the board, whilst the functionality of the boards are identical.
Tip
This version of ODYSSEY - X86J4105800 is without on-board eMMc storage or pre-installed Windows 10. Please refer to the user manual for the Windows 10 activation. We offer the version of Win10 Enterprise Activated as well.
Key Feature
Intel® Celeron® J4105, Quad-Core 1.5-2.5GHZ
Dual-Band Frequency 2.5GHz/5GHz WiFi/ Bluetooth 5.0
Intel® UHD Graphics 600
Dual Gigabit Ethernet
Integrated Arduino Coprocessor ATSAMD21 ARM® Cortex®-M0+
Raspberry Pi 40-Pin Compatible
2 x M.2 PCIe (B Key and M Key)
Support Windows 10 & Linux OS
Compatible with Grove Ecosystem
Just simply connect to a mouse, a keyboard and a monitor with the ODYSSEY – X86J4105, you will get a powerful Desktop Mini PC that can run Windows and Linux OS.
With Dual Gigabit Ethernet, you can build the OpenWrt project and pfSense with ease.
There are also two of M.2 PCIe (B Key and M Key), which enables various expandable capabilities including Hard Drives, SSD, GPU, 4G, and even 5G cellular network connectivity.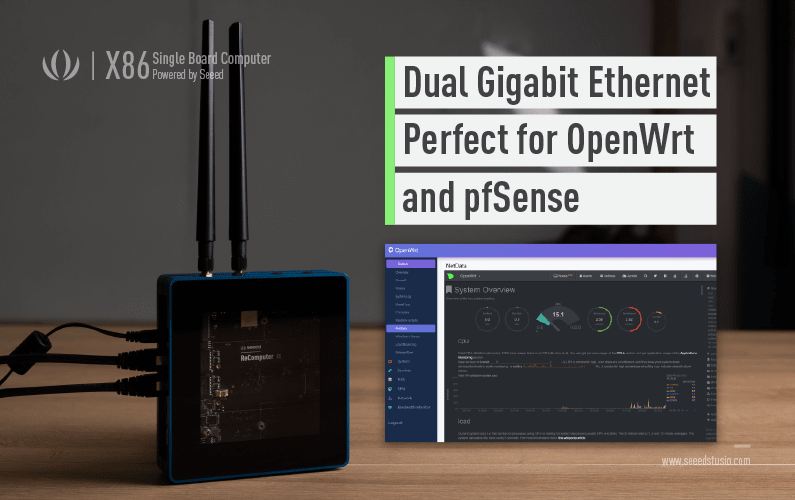 You can extend up to three SATA with the power connector to build your NAS server.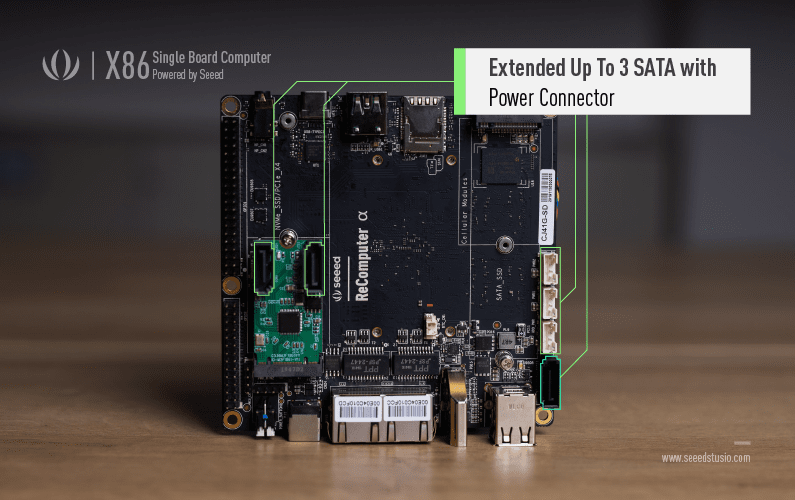 With ODYSSEY - X86J4105, you can build your own NAS (Network-Attached Storage), your high-performance Virtual Router, or a 4G LTE Gateway in your IoT applications. There is an onboard ATSAMD21 Core, an ARM Cortex-M0+ MCU that allows you to program Arduino on the x86 platform. The Raspberry Pi compatible 40-Pin allows you to use hundreds of Pi HATs in the market. All of these features providing endless possibilities of using the ODYSSEY - X86J4105.
The ODYSSEY - X86J4105 is more than just a computer, with the Arduino Co-processor onboard, it can be used to connect with sensors, gyroscope, and much more. Why don't you start exploring your IoT journey from here! We have over 300 Grove modules and Sensors for you to choose from.
At Seeed, you can also design your solution all in one page where you choose the desired SBC, any compatible mission board (HATs, expansions) that you want, I/O modules, and nicely place them in the suitable enclosures/cases such as re_computer Case. Rest assured, as we have tested full compatibility for all of the products listed on the page. Try it now here and save you time to find hardware compatibility!
Supports From the Community
Specification
Components

ODYSSEY - X86J4105

Processor

Intel® Celeron® J4105 (Frequency: 1.5 - 2.5GHz)

Coprocessor

Microchip® ATSAMD21G18 32-Bit ARM® Cortex® M0+

Graphics

Intel® UHD Graphics 600 (Frequency: 250 – 750MHz)

Memory

LPDDR4 8GB

Wireless

Wi-Fi 802.11 a/b/g/n/ac @ 2.4/5 GHz HT160 & Bluetooth® 5.0

Networking

Intel® I211AT PCIe Gigabit LAN, Supports Wake-On-LAN, Supports PXE

Audio

Microphone + headphone Combo Connector

Headers

1 × 40-Pin header compatible with Raspberry Pi

1 × 28-Pin header (SAMD21G18)

1 × Front Panel Audio Connector

1 × 4-Pin herder (UART function from SAMD21G18)

1 × Fan Port (4 pin 1.25mm PWM 5V)

3 × 4-Pin SATA Power Connector

1 × 4-Pin herder (Power and Switch)

USB

USB 2.0 Type-A x2, USB 3.1 Type-A x1, USB 3.1 Type-C x1

Video Interfaces

HDMI2.0a: Up to 4096x2160 @ 60Hz 24bpp / DP1.2a: Up to 4096x2160 @ 60Hz 24bpp

Expansion Slots

M.2(Key B, 2242/2280): SATA III, USB2.0, UIM; M.2 (Key M, 2242/2280): PCIe 2.0 ×4; Micro SD card Socket; SIM Card Socket; SATA III

RTC

JST 1.0 CR2032 3V

TPM

Built-in TPM (2.0)

Power

DC Jack 5.5/2.1mm or Type-C PD; DC Jack input: 12-19V DC; Type-C input: 12V DC

Dimensions

110x110mm

Certifications

FCC, CE
Applications
Mini PC
NAS (Network-Attached Storage)
Edge Computing
Router
Robotics
Industrial Applications
Media Center
IT Industry
Educational Fields
Thin Client
Server Cluster
IoT Gateway
Hardware Overview
Pinout Diagram
Part List
ODYSSEY - X86J4105 x 1
User Manual x 1
International Power Adapter
SATA Cable x 1
Antenna x 2
RTC Battery x 1
Heat Sink(Assembled)
Cooling Fan (Assembled) (Included in eMMC versions)
ECCN/HTS
Documents
ODYSSEY - X86J4105 User Mannual