SEEED Studio version
High-performance 64-bit quad-core processor
Dual display support at resolutions up to 4K
Hardware video decode at up to 4Kp60
Dual camera interfaces
PCIe Gen 2 x1 interface
Raspberry Pi Compute Module 4 harnesses the computing power of the popular Raspberry Pi 4 Model B, bringing it to a smaller form factor suitable for integration into products.
This version of the Raspberry Pi Compute Module 4 includes a high-performance 64-bit quad-core processor, 8GB LPDDR4 RAM, dual-display support at resolutions up to 4K, hardware video decode at up to 4Kp60, Gigabit Ethernet, USB 2.0, dual camera interfaces, PCIe Gen 2 x1 interface, and dual-band 2.4/5.0GHz wireless LAN and Bluetooth 5.0.
Specifications
Specification
Details
Processor
Broadcom BCM2711 quad-core Cortex-A72 (ARM v8) 64-bit SoC @ 1.5GHz
Memory
8GB LPDDR4
Connectivity
Onboard Gigabit Ethernet PHY supporting IEEE1588


1 × USB 2.0 interface


PCIe Gen 2 x1 interface


28 GPIO signals


SD card interface for SD card or external eMMC (for use only with Compute Module 4 variants without eMMC)
Video
Dual HDMI interface (up to 4Kp60 supported)


2-lane MIPI DSI display interface


2-lane MIPI CSI camera interface


4-lane MIPI DSI display interface


4-lane MIPI CSI camera interface
Multimedia
H.265 (4Kp60 decode); H.264 (1080p60 decode, 1080p30 encode); OpenGL ES 3.0 graphics
Input power
5V DC
Operating temperature
0 to +80°C
Dimensions
55 mm × 40 mm
Production lifetime
Raspberry Pi Compute Module 4 will remain in production until at least January 2028
Compliance
For a full list of local and regional product approvals, please visit:
www.raspberrypi.org/documentation/hardware/raspberrypi/conformity.md
Hardware Overview
Dimensions
Note
4 x M2.5 holes in corners
All dimensions are in mm
Part List
1 x Raspberry Pi Compute Module 4 - 8GB RAM
Raspberry Pi Compute Module 4 Wireless / 4GB RAM / 32GB Storage.
The power of Raspberry Pi 4 in a compact form factor for deeply embedded applications.
Built on the same 64-bit quad-core BCM2711 application processor as Raspberry Pi 4, the Compute Module 4 delivers a step change in performance over its predecessors: faster CPU cores, better multimedia, more interfacing capabilities, and, for the first time, a choice of RAM densities and a wireless connectivity option.
The Raspberry Pi Compute Module 4 IO Board is an invaluable development tool. Exposing every interface from Compute Module 4, the IO Board provides a development platform and reference base-board design for the most powerful Compute Module yet, and is also designed for integration into end products.
1.5GHz quad-core 64-bit ARM Cortex-A72 CPU
VideoCore VI graphics, supporting OpenGL ES 3.x
4Kp60 hardware decode of H.265 (HEVC) video
1080p60 hardware decode, and 1080p30 hardware encode of H.264 (AVC) video
Dual HDMI interfaces, at resolutions up to 4K
Single-lane PCI Express 2.0 interface
Dual MIPI DSI display, and dual MIPI CSI-2 camera interfaces
1GB, 2GB, 4GB or 8GB LPDDR4-3200 SDRAM
Optional 8GB, 16GB or 32GB eMMC Flash storage
Optional 2.4GHz and 5GHz IEEE 802.11b/g/n/ac wireless LAN and Bluetooth 5.0
Gigabit Ethernet PHY with IEEE 1588 support
28 GPIO pins, with up to 6 × UART, 6 × I2C and 5 × SPI
The Raspberry Pi Compute Module 4 Antenna Kit is certified for use with Raspberry Pi Compute Module 4.
New, more compact form factor
Compute Module 4 introduces a brand new form factor, and a compatibility break with earlier Compute Modules. Where previous modules adopted the JEDEC DDR2 SODIMM mechanical standard, with I/O signals on an edge connector, we now bring I/O signals to two high-density perpendicular connectors (one for power and low-speed interfaces, and one for high-speed interfaces).
This significantly reduces the overall footprint of the module on its carrier board, letting you achieve smaller form factors for your products.
Documents
Compliance
Raspberry Pi Compute Module 4 has undergone extensive compliance testing and meets the standards required in many countries. You can find all compliance information and regional certificates at raspberrypi.org/compliance.
Industrial IoT Mini-Computer Based On Raspberry Pi Compute Module 4 PoE, 5G/4G, Metal Case, With Cooling Fan
Industrial IoT Mini-Computer Based On CM4
Designed For Raspberry Pi Compute Module 4
Waveshare CM4 Industrial IoT Board Inside, Fast And Easy To Build A Mini-Computer
Part List Comparison
| | RAW BASE BOARD | MINI-COMPUTER KIT |
| --- | --- | --- |
| CM4 Industrial IoT Board | √ | √ |
| Metal case | | √ |
| 5000rpm cooling fan | | √ |
| 12V 2A power adapter | | √ |
| Screwdriver and screws | | √ |
Waveshare CM4 Industrial IoT Board Inside
Make It Easy To Build Your Own Raspberry Pi CM4 Mini PC
Base Board Specifications
CM4 SOCKET

suitable for all variants of Compute Module 4

NETWORKING

Gigabit Ethernet RJ45 connector, integrates 802.3af-compliant PoE circuit (5V/2.5A)

M.2 B KEY, supports 5G / 4G module

SIM card slot, supports standard SIM card for 5G/4G/3G/2G communication

CONNECTOR

Isolated RS485, Isolated RS232, PCIe Gen 2 x1, I2C, ADC, GPIO

USB

Dual USB 2.0 Type A

DISPLAY

Dual MIPI DSI display ports (15pin 1.0mm FPC connector)

CAMERA

Dual MIPI CSI-2 camera ports (15pin 1.0mm FPC connector)

VIDEO

Dual HDMI ports, supports 4K 30fps output

RTC

Real-time clock with battery socket and ability to wake Compute Module 4

STORAGE

MicroSD card socket for Compute Module 4 Lite (without eMMC) variants

FAN HEADER

allows speed adjustment and measurement, 5V / 12V input

POWER INPUT

7V~36V wide range

DIMENSIONS

160 × 114mm

Rich Peripheral Connectors
Onboard Connectors Including M.2/CSI/DSI/HDMI/USB/ETH/PCIe/RS232/RS485
Precise Cut-Out With Clear Label
Each Cut-Out Is Completely Aligned With The Connector
Cooling Fan Included
Comes With Cooling Fan, Combined With The Airflow Vent, Better Heat Dissipation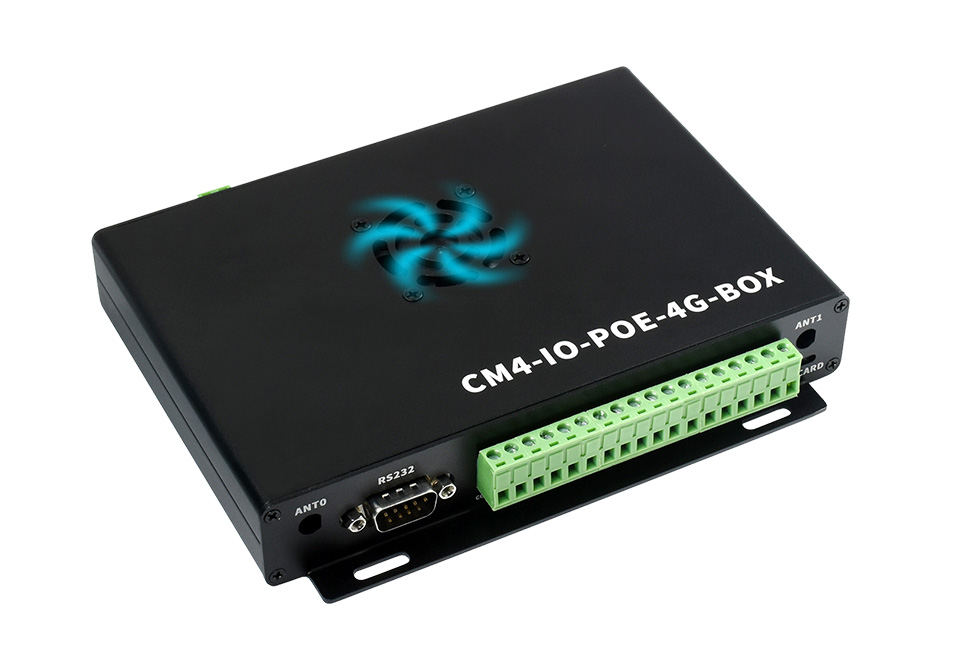 Wall Mount Support
Wall Mount Holes On Two Sides, Handy For Mounting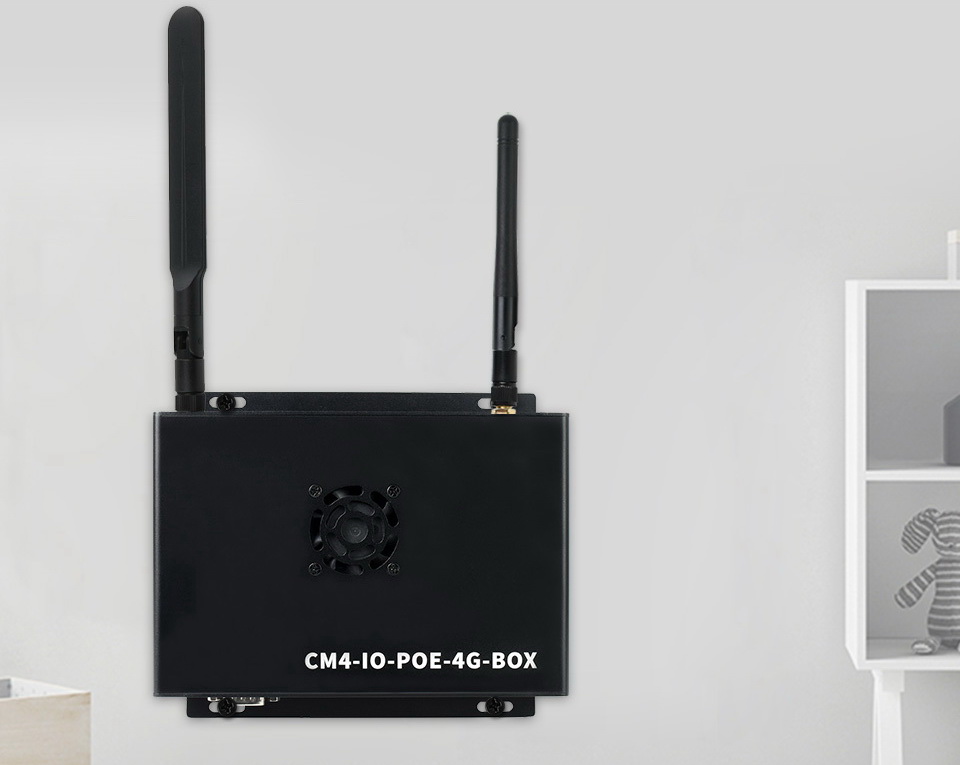 Application Examples
Binocular Vision, PoE Powered Raspberry Pi Projects, Or Other Industrial Context
for reference only, displays, cameras, and antennas are NOT included.
Outline Dimensions
WIKI: Compute_Module_4_PoE_4G_Board
* Resources for different product may vary, please check the wiki page to confirm the actually provided resources.
Shipping list
Weight: 0.643 kg
Compute Module 4 PoE 4G Board x1
Raspberry Pi Compute Module 4 Wireless / 4GB RAM / 32GB Storage.
Metal case (top and bottom) x1
Fan-4010-PWM-12V x1
Screwdriver x1
Screws pack x1

12V 2A power adapter x1