Isolated RS485 CAN HAT (B) For Raspberry Pi, 2-Ch RS485 And 1-Ch CAN, Multi Protections. Isolated RS485 CAN HAT (B) For Raspberry Pi. 2-Ch RS485 and 1-Ch CAN, SPI communication. Bulit-In Power Supply Isolation, ADI Magnetical Isolation, And TVS Diode, Etc.
Features At A Glance
Standard Raspberry Pi 40PIN GPIO extension header, supports Raspberry Pi series boards
1-Ch CAN, adopts MCP2515 controller and CAN transceiver, converts SPI to CAN
2-Ch RS485, adopts SC16IS752+SP3485 dual-chip combination, converts SPI to RS485
Onboard power conversion circuit, supports 8~28V wide voltage power supply, can power the Raspberry Pi at the same time
Onboard unibody power supply isolation, providing stable isolated voltage, no extra power supply required for the isolated terminal
Onboard unibody digital isolation, for isolating the signal, reliable and jamproof, low power consumption
Onboard TVS (Transient Voltage Suppressor), effectively suppress surge voltage and transient spike voltage in the circuit, lightningproof & anti-electrostatic
Onboard resettable fuse and protection diodes, ensures the current/voltage stable outputs, provides over-current/over-voltage proof, improves shock resistance
Onboard 120Ω terminal resistor, configured by jumper
Onboard terminals and pin headers, more convenient connection
Breakout SPI control pins, for connecting with host control boards
Specifications
| | |
| --- | --- |
| EXPANDED INTERFACE | 2-Ch RS485 + 1-Ch CAN |
| COMMUNICATION INTERFACE | SPI |
| CAN CONTROLLER | MCP2515 |
| CAN TRANSCEIVER | SIT65HVD230DR/SN65HVD23D |
| CAN BAUD RATE | ≦1Mbps |
| UART EXPANSION CHIP | SC16IS752 |
| RS485 TRANSCEIVER | SP3485 |
| RS485 BAUD RATE | 300~921600 bps |
| POWER SUPPLY | External power supply terminal OR Raspberry Pi |
| EXTERNAL POWER SUPPLY RANGE | DC 8~28V |
| OPERATING VOLTAGE | 3.3V |
| DIMENSIONS | 65 × 56.5 mm |
What Can It Do?
Enable Isolated And Stable RS485 And CAN Capability For Your Raspberry Pi
Connect To Raspberry Pi Series
Standard Raspberry Pi 40PIN GPIO Header, Customized For Raspberry Pi Series Boards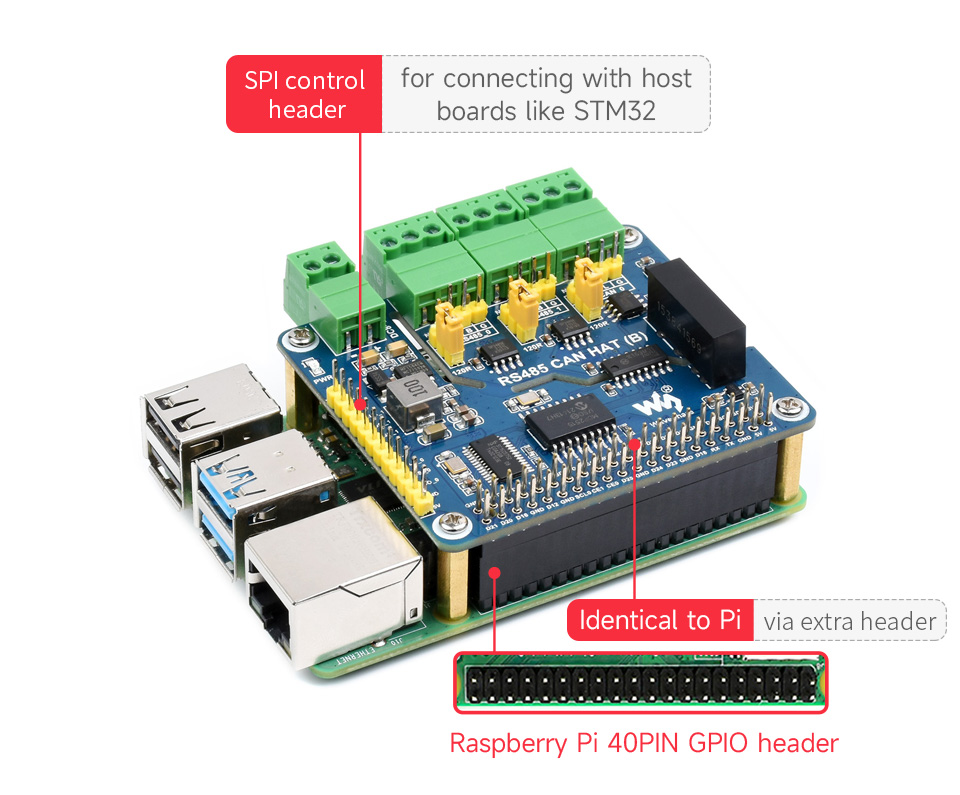 Expand 1-Ch CAN And 2-Ch RS485
CAN: Adopts Controller MCP2515 With CAN Transceiver
RS485: Adopts SC16IS752 And SP3485 Dual-Chip Combination
Industrial Grade Isolation Protection
Onboard unibody power supply isolation, providing stable isolated voltage, no extra power supply required for the isolated terminal
Onboard unibody digital isolation, for isolating the signal, reliable and jamproof, low power consumption
What's On Board
Chip Features
MCP2515
CAN controller
SIT65HVD230DR/SN65HVD23D
CAN transceiver
SP3485
RS485 transceiver
SC16IS752
UART expansion
π163M31
digital isolator
B0505LS-1W
Power supply isolation
Others
Power supply interface
DC 8~28V, can power the HAT and Raspberry Pi
RS485 bus interface
Connect via screw terminals/pin header
CAN bus interface
Connect via screw terminals/pin header
Raspberry Pi GPIO header
SPI control header
for connecting with host boards like STM32/Arduino
CAN terminal resistor jumper
Switch to 120Ω by default
RS485 Terminal resistor jumper
Switch to 120Ω by default
Power Indicator
Pin Definition
Outline Dimensions
Resources & Services


WIKI: www.waveshare.com/wiki/RS485_CAN_HAT_(B)
Shipping list
Weight: 0.05 kg
RS485 CAN HAT (B) x1
2x20PIN female header x1
Screws pack x1
1
2
3