Beetle ESP32-C3 is a RISC-V processor-based controller that supports Bluetooth and WiFi. The integrated Lithium battery charging management makes it convenient to use with Li-ion battery. The supported expansion board allows it to be easily connected to a screen or peripherals.
Beetle ESP32-C3, mainly intended for IoT applications, is a controller based on ESP32-C3 RISC-V 32bit single-core processor.
On a coin-size board of 25*20.5 mm, there are up to 13 IO ports broken out, so you don't have to worry about running out of IO ports when making projects. Meanwhile, the li-ion battery charging management function is integrated on the board which allows for directly connecting the li-ion battery without extra modules, while ensuring the application size and safety.
The equipped expansion board for Beetle ESP32-C3 brings out more power sources without increasing product volume, more convenient for solder. Besides, the onboard easy-to-connect GDI saves the trouble of wiring when using a screen.
Beetle ESP32-C3 supports WiFi and Bluetooth 5 (LE) dual-mode communication that reduces the difficulty of networking, and also both Bluetooth Mesh protocol and Espressif WiFi Mesh are supported for more stable communication and a larger coverage area.
Detailed tutorials for Beetle ESP32-C3 are provided for users to use the controller's WiFi function, such as connecting to IoT platforms like Aliyun, IFTTT, etc. Or users can use various sensors and actuators from DFRobot to build up IoT systems.
Beetle ESP32-C3 can be programmed by Arduino IDE, ESP-IDF, MicroPython, C, and Python are both supported.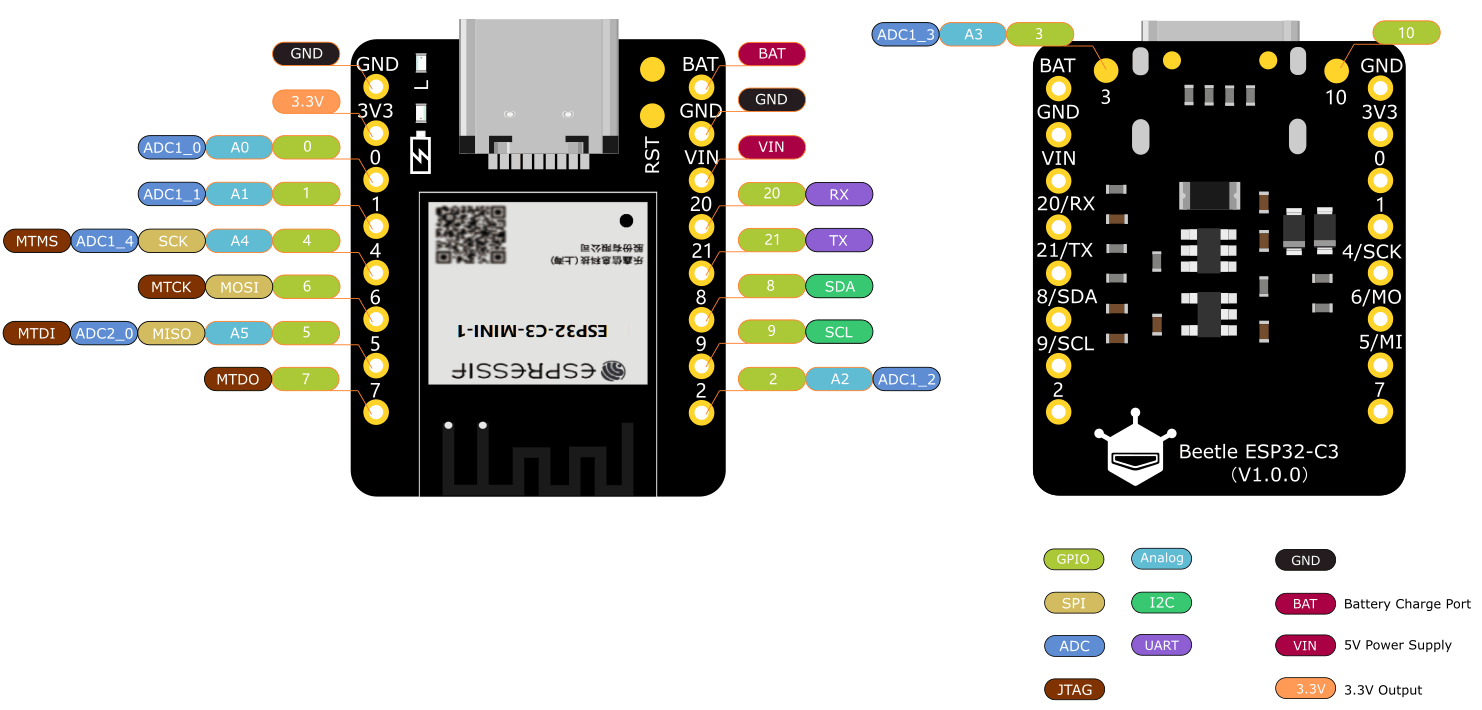 Pin Diagram
FEATURES
Small size of 25*20.5 mm
Onboard Lithium charging management function, safer charging and discharging
Comes with expansion board, more convenient to make projects or use with a screen
RISC-V 32bit core
Support WiFi and Bluetooth 5(LE) dual-mode communication
APPLICATIONS
SPECIFICATION
Basic Parameter
Operating Voltage: 3.3V
Type-C Input Voltage: 5V DC
VIN Input Voltage: 5V DC
Operating Current: 25mA
Maximum Charging Current: 400mA
Operating Temperature: -40~105℃
Size: 25 x 20.5mm/0.98 x0.81"
Hardware Parameter
Processor: 32bit RISC-V Single-core processor
Main Frequency: 160 MHz
SRAM: 400KB
ROM: 384KB
Flash: 4MB
RTC SRAM: 8KB
Clock: external crystal(32kHz); internal fast RC oscillator 17.5MHz(adjustable); PLL clock
USB: USB 2.0 Up to 12Mbit/s
WiFi
WiFi Protocol: IEEE 802.11b/g/n
Bandwidth: Supports 20 MHz, 40 MHz bandwidth in 2.4GHz band
WiFi Mode: Station, SoftAP, SoftAP+Station and promiscuous mode
WiFi Frequency: 2.4GHz
Frame Aggregation: TX/RX A-MPDU, TX/RX A-MSDU
Bluetooth
Bluetooth Protocol: Bluetooth 5, Bluetooth mesh
Bluetooth Frequency: 125 Kbps, 500 Kbps, 1 Mbps, 2 Mbps
Ports
Digital I/O x13
LED PWM 6 Channel
SPI x1
UART x2
I2C x1
I2S x1
IR Transceiver: transmit channel x2, receive channel x2(random pin)
2 × 12-bit SAR ADCs, up to 6 channels
DMA controller, with 3 transmit channels and 3 receive channels
DOCUMENTS
SHIPPING LIST
Beetle ESP32-C3 x1
Beetle ESP32-C3 Expansion Board x1
2.54-8P Black Single-row Pin Connector x1