This ST7735S 1.8" TFT Display features a resolution of 128×160 and SPI (4-wire) communication. Integrated with an SD card slot, it allows to easily read full-color bitmaps from the SD card.
The module provides users with two wiring methods: pin header wiring and GDI (General Display interface). You can directly connect the display to a FireBeetle main controller using an FPC cable. Plug and play, easy to wire. Besides, the display supports a low refresh rate and offers a good display effect and strong versatility.
It can be used in applications like sensor monitoring and alarm, Arduino temperature monitor, fan controller, etc.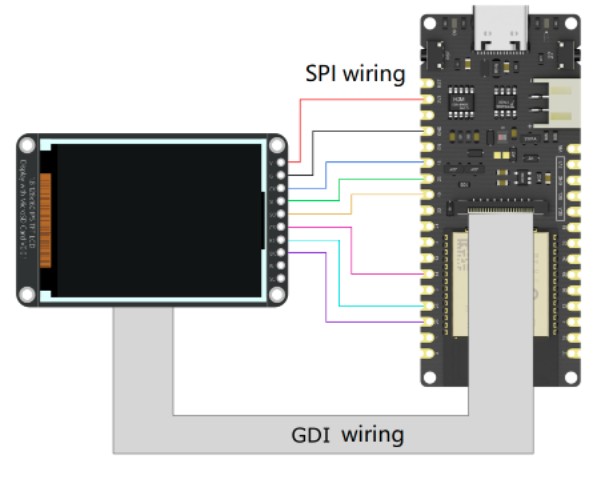 Connect Diagram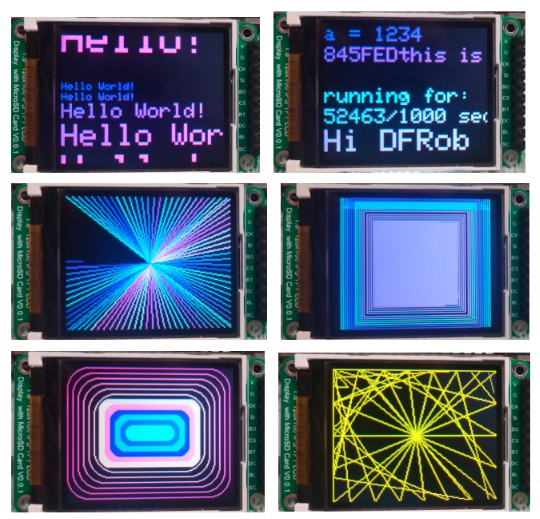 FEATURES
128x160 Resolution
SPI (4-wire) communication
Integrated with an SD card slot
APPLICATIONS
Sensor monitoring and alarm
Arduino temperature monitor
Fan controller
SPECIFICATION
Operating Voltage: 3.3 V - 5 V
TFT Viewing Angle: 120 degrees
Pixels: 128 columns x 160 rows
Communication: SPI
Interface Mode: GDI, pin header
Driver Chip: ST7735S
Full-screen Power Consumption: 0.11 W
MicroSD Slot x 1
Operating Temperature: -10℃ - +60℃
Display Area: 26 mm x 35 mm/1.02x1.38"
Module Dimension: 34 mm x 55 mm/1.34x2.17"
Mounting Hole Pitch: 29 mm/1.14", 50 mm/1.97"
Mounting Hole Size: 2 mm/0.08"
DOCUMENTS
SHIPPING LIST
Fermion: 1.8" 128x160 IPS TFT LCD Display with MicroSD Card Slot (Breakout) x1
GDI Display Cable x1
10P Pin Connector x1